Information letter #12 Heineken Hoek: dismantling tower crane and celebration of the highest point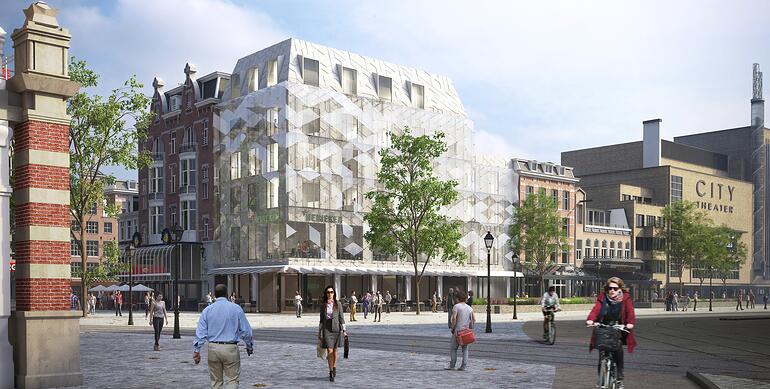 Dear businesses and residents,
In this twelfth information letter, we would like to let you know about the current situation, what work will be carried out in the coming period, and how this might affect you.
Activities in the coming period
Dismantling tower crane
On Tuesday August 15th, the tower crane will be dismantled. Like the build-up, this will take place using a mobile crane. The mobile crane will temporarily stand on the Leidseplein to lift off the parts of the tower crane. These are then lifted onto a truck.
Celebration of the highest point
On Thursday 31 August we will reach the highest point of the Heineken Hoek. We will celebrate this milestone together with all parties involved. The start of the finishing work is Mid-September. The tenant of the building will start the finishing work inside. This means that they will continue finishing for example the floors and walls and furnishing the catering and hotel rooms.
Structural work phase
We are now working hard at the shell of the building. As always, will do our utmost to keep disruption to a minimum. For example, large vehicles will load and unload inside the construction fences whenever possible.
Considerate constructors
We realise that we are guests in your area, and we will try to prevent any nuisance as much as possible and to keep it to a minimum. As a construction company, we are affiliated with the Stichting Bewuste Bouwers (Considerate Constructors Foundation). We work according to its code of conduct, in which limiting nuisance to the environment is paramount.
Our working hours
According to the building permits, work is allowed from Monday to Friday between 07:00 and 16:00. Materials and equipment may be supplied to and removed from the construction site between 07:00 and 12:00. Occasionally, it is possible that we will have to work outside the permitted times. We will let you know if this is the case and it concerns
work that might cause a nuisance.

More information, questions and complaints
For more information about the work on the Heineken Hoek, please go to https://www.wijbouwen.nu/heineken-hoek. Here you will find the latest news, construction updates and an overview of the information letters that have been sent. For more information about this letter and any questions/complaints about the work, please send an e-mail to heinekenhoek@jpvaneesteren.nl. You can also speak to our foreman Rob Konings, who is present on the construction site every day. In the case of an emergency, we can be reached day and night by calling 0900 - 824 34 73 (TBI-Direct).
Kind regards,
Caransa Groep B.V.
J.P. van Eesteren B.V. – 'Heineken Hoek' Implementation Team