Newsletter #7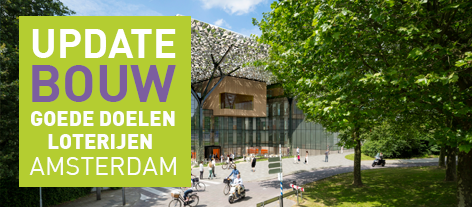 Dear Sir or Madam,
We are pleased to send you this newsletter, with an update on the latest developments in the sustainable renovation of the Goede Doelen Loterijen (Nationale Postcode Loterij, BankGiro Loterij and VriendenLoterij) office building on Prinses Irenestraat.
Update on the construction work
The building has presently gained its definite shape. Finishing work on its exterior is being rounded off. We have attached the new roofing and plan to start installing approximately 1,000 solar panels on the roof in mid-March.
Preparations for the building's distinctive foliage ceiling are in full swing. In March, we will erect the volume scaffolding required for mounting the foliage ceiling. If everything goes according to plan, we expect to install the first of some 7,000 ceiling panels in late April.
We started fitting out the building in early 2018. We have poured most of the sand cement floors, installed the first systems conduits above the ceiling and are presently erecting the first interior walls.
BREEAM Outstanding certificate
BREEAM is a Dutch certification issued to sustainable buildings. It is an abbreviation of 'Building Research Establishment Environmental Assessment Method', which is used to establish the sustainability of existing and new developments.
It was Goede Doelen Loterijen's ambition to earn a BREEAM Outstanding certificate for its new office building. This is the highest possible classification that can be issued within the BREEAM certification process.
The new building was issued a BREEAM Outstanding design certificate in late November 2017 – achieving a score of 89.2%. And now we are swiftly working toward the award of a BREEAM Outstanding rating for the post-construction stage. Final acceptance of the office building is scheduled for the fourth quarter of 2018.
Dag van de Bouw
Saturday, 2 June marks the 13th edition of 'Dag van de Bouw'. We will be opening our doors to the public for the day: everyone is welcome to have a look around the Goede Doelen Loterijen site. Further details to follow. One thing we can tell you is that this annual event is always loads of fun. So be sure to mark Saturday, 2 June on your calendar. We look forward to seeing you there!
How to reach us
During construction we will do our best to minimise nuisance for people living and working in the area. We work to keep you informed of upcoming activities via our two-monthly newsletters and news updates on our website (www.wijbouwen.nu/goededoelenloterijen).
Do you have any comments or questions for us? Feel free to get in touch with our Superintendent Marco van der Veen. You can find him on location at our building site every day. Or you can send us an email: to goededoelenloterijen@jpvaneesteren.nl We will take care to read your message within 24 hours. In the event of an accident or emergency, you can reach us day and night on tel. no. 0900 - 824 34 73 (TBI Direct).
Kind regards,
J.P. van Eesteren B.V.

E. (Erik) Schipper
Project manager