Newsletter #5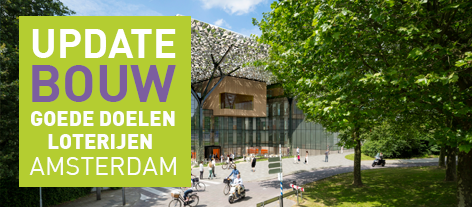 Dear sir/madam,
With this newsletter, we want to give you an update on the sustainable remodelling of the office building for the Goede Doelen Loterijen on the Prinses Irenestraat.
Removal of the dam wall
This week, we learned that it is unfortunately not possible to remove the old dam wall using the method we had planned. The remains of the wall are lodged into the ground too firmly. Instead of pulling this final part of the wall out, we have to use vibrations. This may cause some hindrance for you. To minimise the nuisance, we will only conduct these activities on working days between 8 AM and 5 PM. We expect to need circa six working days to complete this process and will commence our work on Wednesday 13 September.
Vibration meters
To measure the effects of our construction work on existing structures in the area, we installed vibration meters at the start of the construction process. This allows us to adjust our methods if the vibrations we cause exceed certain acceptable values. These vibration meters will remain in place until our work is completely done.
You can contact us
We will do our best to cause as little hindrance as possible during the construction process. We will keep you informed about upcoming activities via bimonthly newsletters and messages posted on our website (www.wijbouwen.nu/goededoelenloterijen).
If you have any questions or remarks in the meantime, please speak to Marco van der Veen, our managing contractor. He can be found at the construction site every day. Of course, you can also send us an email at goededoelenloterijen@jpvaneesteren.nl. We will get back to you within 24 hours. If it is urgent, you can call us night and day at 0900 - 824 34 73 (TBI Direct).
Kind regards,
J.P. van Eesteren B.V.

E. (Erik) Schipper
Project manager